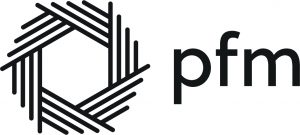 PFM Asset Management LLC ("PFM"), an SEC-registered independent investment adviser, invests approximately $1.7 billion for more than 200 governmental entities (including municipalities, counties, school districts, park districts, water districts, etc.) through the Illinois Trust. In addition, PFM manages over $740 million in Illinois public client assets through separately managed accounts. Nationwide, PFM had $160.7 billion in total assets, including $119.3 billion in discretionary assets under management and $41.5 billion in non-discretionary assets under advisement as of September 30, 2020.
Contact Information:
Michelle Binns
190 S. LaSalle, Suite 2000
Chicago, IL  60603
312-523-2428
binnsm@pfm.com
Matthew Hanigan
190 S. LaSalle, Suite 2000
Chicago, IL  60603
312-523-2430
haniganm@pfm.com
PFM is the marketing name for a group of affiliated companies providing a range of services. All services are provided through separate agreements with each company. This material is for general information purposes only and is not intended to provide specific advice or a specific recommendation. Investment advisory services are provided by PFM Asset Management LLC which is registered with the Securities and Exchange Commission under the Investment Advisers Act of 1940. The information contained is not an offer to purchase or sell any securities. Applicable regulatory information is available upon request. For more information regarding PFM's services or entities, please visit www.pfm.com.
.